Bicycles
Published on February 6th, 2012 | by Frankie Berti
7
NYC Bike Share to be Largest in the Country
New York City's Department of Transportation and Alta Bicycle Share, Inc. will be opening the largest bike share system in the country by summer of 2012. Ten thousand bikes in 600 stations around Manhattan, Brooklyn, and the surrounding burroughs will be available 24 hours a day throughout the year for short bike rides.
The Details:

Alta Bicycle Share, the same company that runs Boston's New Balance Hubway and Washington D.C.'s Capital Bikeshare, will be running the program. New  York City's program is funded by private sponsorship and user fees, much like Miami's DECOBIKE. Alta will be responsible for installation, maintenance, repairs, cleaning, and customer support. The bike stations will be solar powered, thus reducing energy costs, do not require roadwork for installation.
Rental rates will be determined after the contracts are signed, but Alta is promising affordable annual memberships, costing less than a monthly unlimited ride MetroCard (around $90-95). Unlimited weekly membership would cost $20-25 and unlimited 24-hour access would be $8-10.  The NYC bike share will include the obligatory smart phone app, which will use the system's wireless technology to find real-time bike and station availability.
Like the DECOBIKE bike sharing program in Miami Beach, the bikes will be available in 30 to 45 minute sessions. Longer trips will incur a small, graduated usage fee. Check out the Boston and Washington D.C. bike share programs to compare rates. Check out NYC Bike Share to see how it works.
Who will benefit:
Bike shares are great for short trips: they reduce bike parking, storage issues, and as well as theft. This share program will help New Yorkers connect to different modes of mass transit where subways don't reach. And Alta Bike and the NYDOT will be hosting demonstrations, open houses, and workshops throughout the city for those who are new to the concept. Alta Share estimates that it will employ 200 locals to help run the share.
The Benchmarking Bike and Walking Report shows that New York is in the top five states for bicycling and walking levels, and that New York City ranks in the top five cities for the same. The city's transit system already tops the nation in its scope; items like this bike sharing program no doubt make biking the Big Apple that much more accessible, especially considering that 54% of all trips New Yorkers make are less than two miles, the perfect distance for a quick bike ride.
New York City has one of the highest bike userships in the country, but it also ranks in the top 10 cities with the highest fatality rates for bicyclists and pedestrians. Mayor Bloomberg acknowledged this in his State of the City address in January: "…the reality is more and more New Yorkers are biking, and the more bike lanes we put in, the fewer deaths and serious injuries we have on the streets." Of course, that depends on education and biker awareness. But it seems that the government will be providing the infrastructure support needed, as per the mayor's address: "We'll also make our city smarter and safer by deploying Traffic Enforcement Agents to safety hot spots at key intersections, doubling the number of 20 mile-per-hour zones for schools, and continuing adding more miles of protected bike lanes."
Source: International Business Times | Image: NYCStreets
MAKE SOLAR WORK FOR YOU!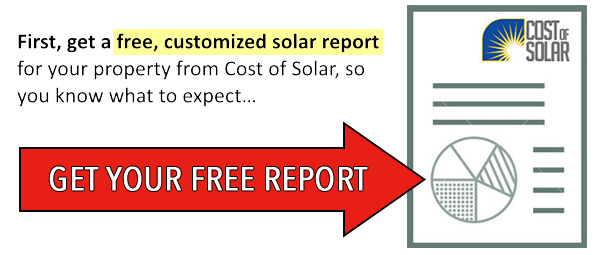 Next, use your Solar Report to get the best quote!