Electric Vehicles
Published on May 18th, 2010 | by Nick Chambers
4
Hawaii Joins List of States Offering Big Incentives to Buy Electric Cars
It's been a whirlwind of EV news for Hawaii recently. As we already knew, they'll be getting Better Place's battery swapping technology, an electric car factory and they were just listed as one of the first areas you'll be able to buy a Nissan LEAF when it goes on sale at the end of this year.
Now potential plug-in customers in the island paradise have another huge reason to celebrate: a cash rebate worth 20% of the price of a new, highway-capable, battery electric or plug-in hybrid electric vehicle… up to $4,500 total.
So any electric vehicle over $22,500 will qualify for the full amount? I'm sold.
In addition to the EV rebate, Hawaii is also offering a $500 rebate towards the installation of a charging station. That's on top of the 50% tax credit offered by the federal government (up to $2,000 for residential and $50,000 for business).
When you combine the Hawaii EV rebate with the federal tax credit of $7,500, you're talking a $12K reduction in price. Taking the LEAF as an example, with a base sales price of $32,780, you'd get a fully electric and completely pimped out ride for just about $21,000. Hell, there aren't many conventional cars that sell for less than that these days.
Other states offering incentives to buy electric cars in addition to the federal tax credit include California ($5,000 tax credit), Oregon ($1,500 tax credit), and Georgia ($5,000 tax credit) just to name a few. Although their list a little outdated, Plug In America has a more extensive table offering details on all the incentives in every state. The information is changing all the time, so be sure to check with your state government for the latest.
In a BusinessWeek article, Ted Liu, director of the Hawaii Department of Business, Economic Development and Tourism, said, "It is the role of government to try to tip market behavior to the point where the markets take over. We're going to see a lot of natural demand emerging, but it's our role to incentivize the early adopters."
Source: BusinessWeek
MAKE SOLAR WORK FOR YOU!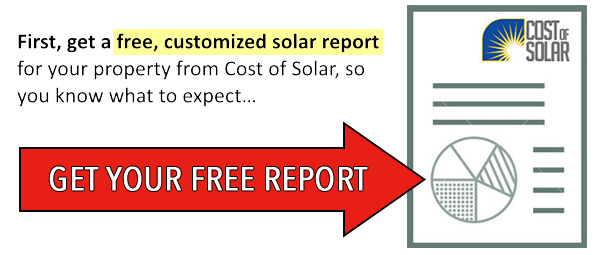 Next, use your Solar Report to get the best quote!